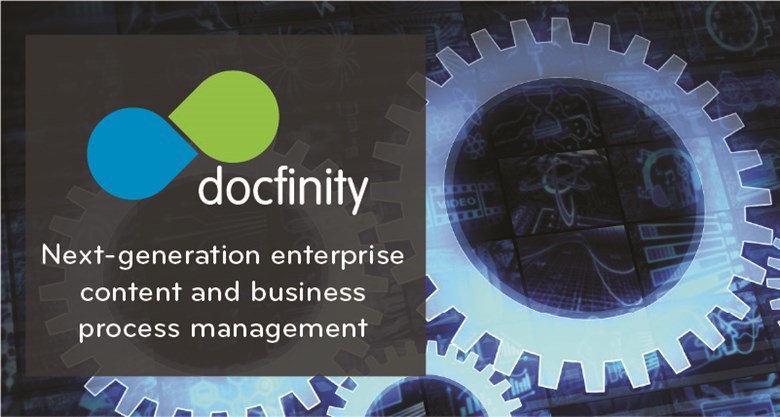 DocFinity is high-powered, next-generation Enterprise Content Management, Business Process Management, Workflow, and Records Management software.
Enhance document management and business process requirements with self-service efficiency in a range of markets for accounts payable, accounts receivable, contract management, customer service, human resources, legal and IT system administration.
Secure, Simplify and Speed Key Tasks
Capture
Scan, upload, import, store and index documents, audio, video and other content files with flexible, user-friendly search and retrieval.
Gateway
Make data or specific functions accessible for third-party users through intuitive gateways styled to match your company's brand.
Automate
Use drag-and-drop workflow design and digital routing to standardize movement of data to people and systems, while eliminating error-prone repetition.
Integrate
Connect related documents and data within business applications of all types, including Web Service APIs and Microsoft Office.
Track
Monitor real-time performance of processes, system health, activities and productivity to keep operations smooth and to prevent bottlenecks.
Secure
Limit security risks by controlling access to sensitive content and fully audit activity.
Comprehensive Capabilities
CAPTURE
In addition to scanning and uploading documents, use DocFinity to automate the capture and indexing of files into system, including various high-speed importers, email integration, OCR, and intelligent capture options.
SEARCH & RETRIEVAL
Find files using keyword searches of active databases and archives. Full text search finds documents containing a word or phrase, or finds a word or phrase within a document.
PROCESS AUTOMATION
Standardize and expedite processes by automating the movement of data and files to people and systems with our robust BPM/Workflow and eForms functionality.
INTEGRATION
Utilize our APIs and other integration tools to connect DocFinity with virtually any core business application you're running. Web Service APIs and Microsoft Office Integration are included with the DocFinity Core.
COMPLIANCE & SECURITY
Automatically apply retention rules to documents as they're categorized during the indexing process. Then control file access, downloading, manipulation, and printing of documents at the group level and view audit trails to drill into all activity around files.
PERFORMANCE MEASUREMENT
Monitor activity within DocFinity—such as system health and performance, and workflow productivity—as well as the efficiency of applications, importers, servers, and repositories.
Our Unique SaaS Model
You can license the entire DocFinity suite with a SaaS subscription. The DocFinity Cloud software stack gives you access to all the core capabilities of the DocFinity system plus BPM/Workflow, Records Management, eForms, Dashboards and more to meet emerging needs.
Learn more about our SaaS and other deployment options.

Learn More
Learn More or Schedule A Demo