Services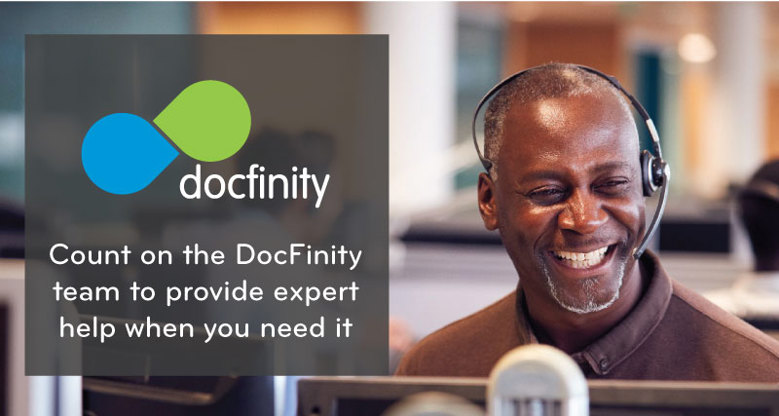 The type of support you receive is as important as the software you buy. DocFinity has been providing award-winning support for more than 25 years.
We partner with you to find the best ways to meet your needs—so we can deliver the individual attention you deserve. That's why we consistently retain more than 98% of our clients year after year. And we typically earn 97-98% client-satisfaction rates in an anonymous, third-party survey conducted annually.
Support to Help You Get the Most Out of DocFinity
Implementation
We have been successfully deploying DocFinity ECM implementations for more than 30 years. We've developed a proven methodology and have a qualified team ready to install and implement your solution according to your specifications and deadlines.
Whether you're new to ECM and process automation or looking to leverage more advanced solutions, DocFinity will work with you to maximize the success of each project.
Consulting
Utilize DocFinity consulting services to find ways to get the most from your ECM solution.
Our consulting team offers outstanding services and unmatched expertise to maximize the benefits of DocFinity for each client. We offer specialized consulting services that address the unique business process management and content management needs of your department or organization.
Training
Administrator-based training courses are offered for all DocFinity products and focus on simplifying and effectively administering the software, as well as designing automation processes to run smoothly behind the scenes.
In addition, we offer foundation courses for end-users covering scanning and administration. Training is offered at our offices, on-site, or interactively through the web. Self-paced training is also available via the DocFinity Online Training Portal.
Support
When you buy DocFinity's award-winning solutions, you get live personal support with a dedicated representative. You'll get the attention you deserve and a partner you can trust.
We also offer online knowledgebase articles, tech alerts, and other helpful information designed to help you get the most out of DocFinity. Plus you'll be part of a supportive community that is ready to offer guidance and share insights at our user conferences and through our Customer Alliance Board.
Learn More or Schedule A Demo