Case Study: Iowa State University - Expediting Admissions with ECM and Workflow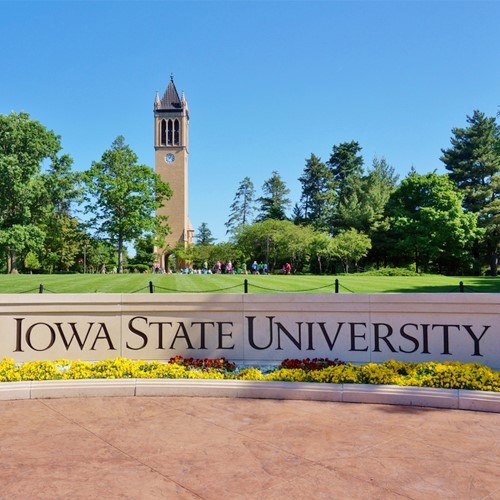 "DocFinity helps our clients see where a student is in the application process, and what workflow they're in at any given point in time."
-Jean Dirks, Systems Analyst
Iowa State University (ISU) has used DocFinity enterprise content management (ECM) software in its Office of Admissions since 2005. The department uses the software to centralize and flow applications and supplementary materials from undergraduates, graduate students, non-degree students, and international students, whose files require more extensive supporting documentation. DocFinity also helps ISU:
---
Accelerate processing speed and generate decision letters more quickly.
Alleviate challenges related to physical file storage.
Provide access to graduate applications from all 170+ departments across campus to authorized personnel for review.
See where prospective students are in the application process.
Validate residency codes from the Office of the Registrar.
Read on to learn more about how Iowa State is able to accelerate Admissions processes using ECM and workflow.
Background
Mostly known for its training in engineering, agriculture, family and consumer sciences, and veterinary medicine, Iowa State University has 36,300 students enrolled at a time—approximately 5,000 of whom are graduate students. There is one campus. The Admissions office receives applications and supplementary materials, which may include transcripts, exam scores, and letters of recommendation, among other documentation. Prior to their ECM deployment, student folders would be moved across campus daily for distributed review processes. With DocFinity, ISU is able to sort, image, and index incoming admissions materials prior to launching them into one of five admissions workflows.
Expediting Admissions with Workflow
Jean Dirks, the Systems Analyst 2 at ISU, explains: "We have our own online application system. Students log in and get a username and password in order to apply for admission to Iowa State. We then take the applications and related materials uploaded with the application, which come in PDF format, and we send those into DocFinity."
Each application has a unique ID, and is indexed as it is received. Applications, transcripts, and other forms of correspondence are direct indexed from various electronic sources or scanned and then assimilated as part of the student record. At this point, it is launched into an appropriate workflow.
Dirks explains, "Once the student's record is built, it is launched into its respective workflow. We have a specific flow for freshmen, transfer students, graduate students, international students, and we have a flow for non-degree students. Each of these has multiple steps."
She continues, "The different workflows share common elements. For example, we have a common 'wait' step that each of the different flows might use if we put a student into a wait process. We have a common 'deny' process, and a common 'offer' process. Our separate workflows have shared components, but each starts in its own unique queue."
Dirks explains that every document that the office receives is loaded into a "New Doc" queue. From there, it will flow to a unique queue, depending on what type of document it is, or depending on the admission type for which the student is applying. She says, "We have created built-in rules. Anything that is common, for example, waits, denys, offers, or holds—they tend to go into a common queue. Any type of student could go into that common queue. In other words, we don't have a separate "hold" BPM for freshmen and a "hold" BPM for transfers. Each uses the same BPM."
Dirks also mentions that DocFinity has improved transparency throughout the application process. She says, "DocFinity helps our clients see where a student is in the application process, and what workflow they're in at any given point in time."
The benefits of analyzing and reviewing business processes
When DocFinity released version 10 of their ECM software, the company's developers re-wrote the architecture from the ground up in order to improve stability and administration, and to take advantage of mobile and HTML technologies. ISU went through a similar process with respect to their workflows when they deployed version 10.
Dirks says, "We didn't just transition DocFinity from version 9 to version 10. We probably took almost a year to review and rebuild our business processes in preparation to move to the newer platform." Admissions emphasized three steps that were pivotal to their success. The department:
---
Documented their current workflows.
Met with a core set of individuals in operations and systems to review the current process.
Built entirely new workflows to take advantage of functionality in the new version to be more efficient and automated.
An enduring student record
By having a centralized, web-based electronic student record, ISU has made lost and duplicate files a thing of the past. Authorized individuals and departments can access student records simultaneously, from any web browser. Sensitive information is protected, and records can be electronically configured to be retained or destroyed after a designated period of time.
The life cycle of the typical student record lasts for decades — far longer than student enrollment. By equipping themselves with electronic student records and workflow, the Admissions office at Iowa State has positioned themselves to manage student records effectively—through matriculation and beyond.