Case Study: Loyola University of Chicago - Accounts Payable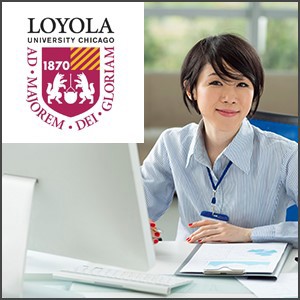 "What we're really trying to do is create better processes so that the instructors and students can spend their time doing what they do best. DocFinity really gave us the solution we were looking for."
Brian Slavinskas, Assistant Controller and Director of Disbursement Services
Accounts Payable (AP) is typically one of the most paper-intensive departments of any organization. Such was the case at Loyola University Chicago. The institution's AP department—made up of just four full time staff members—is responsible for serving approximately 3000 full and part-time faculty and staff, and almost 16,000 students across three campuses. Today, AP turnaround is quick. Security and efficiency have been optimized throughout the department. But that was not always the case.
Challenges faced by a paper based AP department
Just four years ago, Loyola's AP department was facing tremendous challenges related to efficiency and document control. Documents were lost, turnaround was slow, and there was no system in place to provide accountability. At the time, close to 80% of the department's documents received were in hard copy format. Almost a third of that volume required approval in another location. Documents frequently were lost or misplaced in transport across campuses, leading to processing delays and dissatisfaction. AP personnel were unable to expedite high-priority requests because they could not find specific documents efficiently. The department had a terrible reputation, and endured a number of complaints both externally and internally.
Improving processes departmentally and enterprise-wide with ECM
AP addressed their issues by implementing enterprise content management (ECM) software. Their system—DocFinity, from Optical Image Technology—provided an imaging and document management solution to not only address internal processing inefficiencies, but provide workflow and business process management (BPM) to other departments as well. By incorporating an enterprise vision, AP achieved success that now serves as a model for the rest of the university.
AP used their ECM system to replace a legacy system with subordinate functionality. The new system integrates with multiple applications including Lawson Software, enabling the department to electronically store and flow procurement card documentation along with related substantiating documents. They have about 750 cardholders, and are able to centralize all of their monthly statements and transaction support—65,000 transactions a year. The department is also using the system to process approximately 50,000 expense reimbursements, purchase order invoices, check requests (along with supporting documentation), vendor certification documentation, unclaimed property documentation, memos, and returns. They also use ECM to archive all weekly production and status reports.
Measuring success
ECM enables Loyola to automate processes wherever possible. Brian Slavinskas, Assistant Controller and Director of Disbursement Services, recalls, "One of the things that I was adamant about was not moving sideways. I wanted to move forward. So all of our implementations from day one have included workflow." In addition to improving processes, the ECM implementation has provided AP with accountability. They now can see exactly why a process was delayed and exactly where documents are residing within a process. The department is also able to improve transparency by recording all user activities as diary entries. Improvements were impressive, to say the least.
The AP department:
---
Reduced the average time it took to release a check from 12 days to 5 days—a 58% improvement—by eliminating manual keying issues and reducing the number of voided checks
Improved invoice processing turnaround from 3-4 weeks to under 5 days—a 70% improvement
Shaved about 40% off of other turnaround times, since they can now request supporting documentation (such as W-9 forms) on the fly
Reduced aged accruals from $500K to $25K a year
Reduced the daily number of complaint/inquiry emails from 200 to approximately 40—an 80% improvement
---
Slavinskas attributes the project success to number of variables. The entire department was involved in the project, and, equally as critical, there was much communication to staff about change. Feedback about the project from external areas whose work was affected by AP processing was also valuable. Efficiency enhancements were approached not only from a technical perspective: Loyola used the expertise of a business process analyst as well.
Electronic document management enabled Loyola's AP department to be proactive rather than reactive when addressing process inefficiencies. The department now has the ability to see what was submitted—by whom and when—as well as what is missing. This has improved follow-up and payments significantly. Slavinskas summarizes, "What we're really trying to do is create better processes so that the instructors and students can spend their time doing what they do best. DocFinity really gave us the solution we were looking for."
The enterprise rollout
Following AP's lead, Loyola University Chicago has rolled DocFinity out across the entire enterprise, integrating it with PeopleSoft and other software systems. Jim Sibenaller, Director of Enterprise Architecture & PMO with Information Technology Services, says, "We're sustaining an astounding 74% improvement for three years in a row on every process that has been enhanced with the technology. Every time we go into a department and put DocFinity in, we get threefold increases in the key process they identify. So if turnaround formerly was four days, now it's one day; if it was four weeks, now it's one week." The efficiency initiative that started in AP has resonated throughout the enterprise: to date, DocFinity has enabled Loyola University Chicago to realize operational cost reductions of $51,000 annually.